ORBITAL TOR-43
Professional Orbital Scrubber
The roto-orbital movement and weight on the surface make TOR-43 ORBITAL a single disc machine particularly recommended for heavy duty work, treatments and extraordinary maintenance operations. Its technical characteristics make it the ideal choice for cleaning contractors and floor specialists who need a powerful single disc machine suitable for every type of treatment. 
The high frequency oscillations make TOR-43 ORBITAL extremely stable, very easy to handle single disc machine, despite its weight of 65 Kg
The roto-orbital movement makes using the single disc machine very easy for any operator, optimizing training times and making physical strength no longer  requisite. TOR-43 ORBITAL also offers all the advantages of roto-orbital movement such as reduced electrical, water and detergent consumption, as well as achieving superior results in less time compared to a regular single disc machine. 
The TOR-43 ORBITAL single disc machine ensures exceptional results on any type of floor and is the ideal solution for use in the HoReCa sector as well as for cleaning contractors and service companies operating in retail spaces
Features and Benefits
Two movements in one: roto-orbital
Simultaneous with the natural rotary movement of the disc, which can vary from 0 to 90 rpm, the system always generates a constant orbital movement that allows to pass very quickly over the same point many times.
Perfect adhension to the surface
The working area is always constant and the brush/disc always remains level with respect to the surface, adhering perfectly.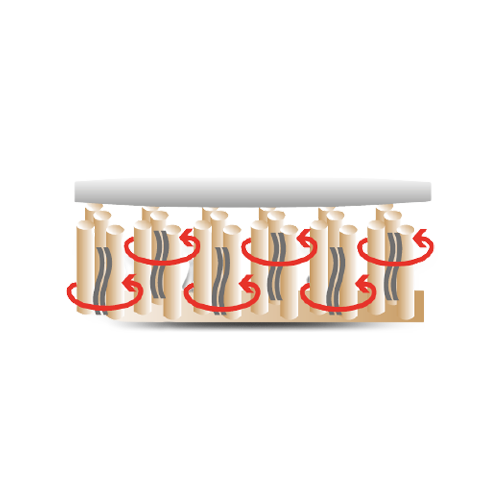 Reduced water consumption and faster carpet drying times, help prevent mold formation
The fibers are cleaned and regenerated through vibration, and dirt particles are removed even from deep pile carpets.
Specifications
Drive

Direct Drive

Working width

43cm

Brush Ø

43cm

Pad holder Ø

43cm

Oscillations per minute

1400 no.

Disc rotation

0-90 rpm
Power supply

230V/50Hz*

Tank

15L

Power

1100W

Machine weight

65kg

Machine dimensions

495x700x1220mm