VISPA 35B (BATTERY)
Professional Auto Scrubber Battery Operated


Vispa 35 is the floor scrubber that has revolutionized cleaning operations in small and congested areas because it's perfect to replace manual cleaning systems.
Floors are scrubbed, dried and hygienized in a single passage, so that they're immediately safe to walk on.
Designed for cleaning small shops, offices, canteens, restaurants, wellness centers, hair salons, doctors surgeries and nursery and other schools, Vispa 35 offers all the advantages of a professional scrubbing machine, with the practicality and compactness that have always distinguished it.
Vispa 35 is suitable for maintenance cleaning of floors up to 1000 sq.m.
It is available in battery-powered and cable-powered scrubbing version and battery-powered sweeping version.
Features and Benefits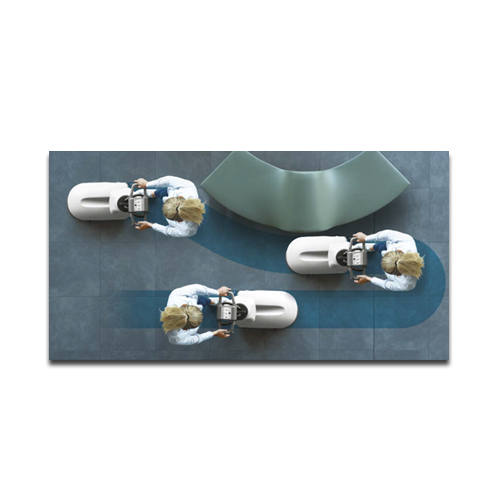 The only scrubbing machine which ensures perfect scrubbing and drying also on bends without having to keep on a straight track
Parabolic squeegee
Thanks to the combined action of the suction motor and the squeegee swinging around the brush, perfect drying is ensured also on bends.
The battery compartment is easily accessible for quick battery replacement
Built-in battery charger
Vispa 35B comes with a built-in battery charger and for recharging you just have to plug the battery charger cable into any mains socket
Specifications
Solution tank

10l/2,64gal

Recovery tank

10l/2,64gal

Voltage and nominal power

12V/500W

Working width

350mm/13,77inch

Squeegee width

440mm/17,32inch

Working capacity up to

1050/11302,11 sq.m/h/sqft/h

Disc brush

(1n.)350mm/13,77inch

Cylindrical brushes

-

Brush pressure

20kg/44lbs
Brush motor

12V/250W

Brush revolution

140rpm

Vacuum motor

12V/250W

Traction

Semi aut.

Forward speed

3 km/h

Max gradient at full load

2%

Batteries (n.)

12V/65Ah C5(1)

Machine dimensions (Lxhxw)

682x1018x440mm / 26,85x40x17,32inch

Machine weight (without batteries)

67kg/147,71lbs